South Africa beat Australia by six wickets in first one-day international – as it happened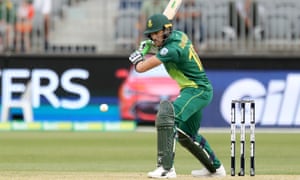 A jarring loss here for the home side, for whom everything that could go wrong, did.
Australia came to the brand new Optus Stadium seeking a new era, a new start, equipped with some energy and elite honesty, and will rightly leave dejected. After losing the toss on an unexpectedly lively wicket, they were roundly spanked by a clinical South Africa.
Arriving with a cabal of four quicks, it was Australia instead who were rounded up early, slumping to 12-3 in an early South African onslaught. While there was much life in the Optus Stadium wicket, Australian batsmen succumbed to some pretty questionable shot selection, which will rightly beg further questions about whether there is something systemically wrong in the High Performance ranks.
Alex Carey partly shone, as did Nathan Coulter-Nile, but this was an entire team collapse, complete with comical run-out for good measure. Phehlukwayo grabbed three and the rest were shared around. South Africa bowled well in the conditions, making sure they continually challenged the right area, allowing the wickets and Australian impatience do the rest.
The second innings was in South Africa's control from the start, and didn't relent. Following the script of a low-scoring walkover, a few late wickets might add consolation gloss to the scorecard, but the reality is De Kock and the newly capped Hendricks destroyed Australia's hopes early, courtesy of solid strokeplay, and capitalising on errant Australian bowling. De Kock, in particular, looked a class above in his knock of 47.
For Australia, Cummins and Stoinis were the pick, but it was really over before it began.
Attention will now turn to the nation's batting malaise ahead of Adelaide next Friday. It will rightly be connected to deeper issues within Australian cricket. This is now starting to look like a long-term recovery for Australia.
With that in mind, we'll see you next Friday for the next chapter of Australian cricket drama.
Thanks for joining, and give the below a read for further colour on the state of the Australian summer game.